PAIN POINT: REMITTANCE COMPANIES
1. Costly Intermediaries

The cost to remit money transnationally varies between 10-20%. Banks' reliance on correspondent relationships drive prohibitive costs and poor customer relationships.

2. Underserved markets

Analysts believe that $32 billion in remittances aren't even sent because of high transactional and regulatory costs associated with cross-border money transfers.

3. Intense competition.

Retail banks are losing market share to agile, customer focused non-bank competitors.
INTRODUCING REMITTANCE 2.0
A remittance transfer provider is a business that transfers money electronically for consumers to people and businesses in foreign countries. Businesses have emphasized their desire to use blockchain technology to provide remittance services, including cash-based, to emerging markets.
OUR SUCCESS STORIESREMITTANCE EXCHANGE(S)
As a core development partner for several remittance enterprises across Southeast-Asia, we have built a working blockchain-based remittance system for money transfer operators. Our model interfaces with the backend of third-party KYC service providers to enable merchants and consumers to safely utilise their stable coins and other digital assets to send fiat money globally.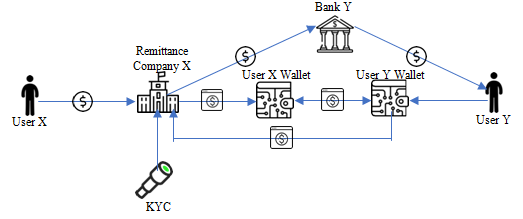 NEED A DEMO FOR YOUR ORGANIZATION?